« Searching Toronto MLS® Listings | Main | Toronto home sales fall 12.5% in August »
August sales soft in London
London, Ontario sales were down somewhat in August 2012, with 723 homes exchanging hands over the course of the month – forty less than the previous August. Altogether, 584 detached homes sold - 5.8% down, and 139 condos - 2.8% down from August 2011. "Traditionally the dog days of summer can be a little slow," says Barb Whitney, President of the London and St. Thomas Association of REALTORS®. "People are on vacation or they may not want to make a move so close to school starting up. In addition, it was an exceptionally hot summer and weather does factor in."  She adds, "Fortunately 2012 has seen a total of 5,921 sales thus far, up 1.9% from 2011, so we're still in good shape."
New listings were also down 15.8%, supporting the theory that the market grew a little sluggish in August. Inventory – the number of active listings at month end – was also down 7.6%.
London's Sister City of St. Thomas broke even in August, with the same number of sales as August 2011 – 64. The average price for a house in St. Thomas Year to Date stands at $190,976 - up. 0.8 from the previous year.
The average price for a home in LSTAR's jurisdiction Year to Date stands at $239,480 – up 3.1% compared to December 31, 2011. "A gradual increase in house price over time is one gauge REALTORS® use to determine the health of a market," says Whitney. "That's why we're always pleased to see that little bump up in price. Slow and steady wins the race."
The following chart, based on data taken from CREA's National MLS® Report for July 2012 (the latest information available), demonstrates how homes in LSTAR's jurisdiction continue to maintain their affordability compared to other major Ontario and Canadian centers.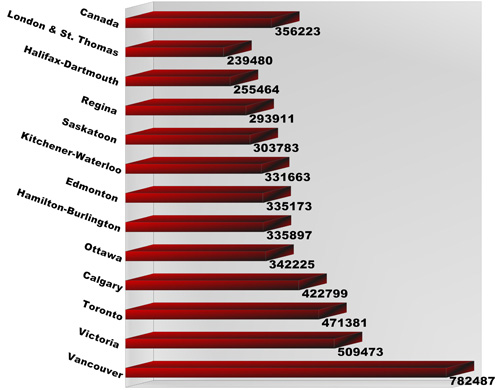 September 5, 2012 | Permalink
TrackBack
TrackBack URL for this entry:
https://www.typepad.com/services/trackback/6a00d8341c51e453ef01774489e3a0970d
Listed below are links to weblogs that reference August sales soft in London:
Comments
The comments to this entry are closed.